Consult Hardesty was an active participant at the ACLU NW Civil Liberties Conference panel on 'Can We Have Police Accountability?' a week or so ago. Some would say we were hecklers.
In the sanitary environs of Lewis & Clark Law School, we bristled at clinical discussions and a genteel atmosphere that did not challenge a panelist who outright lied about the frequency of exonerations occasioned by a flawed arbitration process. The will of Portland City Councils has, over successive administrations, been persistently thwarted whenever they've sought to discipline officers for illegal use of force.  
Panelist Ron Louie, former Chief of the Hillsboro, Oregon police department, was one of two who spoke in terms of a required culture shift, in a bureau finally ascertained to be violating The People's constitutional protections (here). Chief Louie suggested we read the latest issue of mindful magazine. The text is not available online, but the innovative police training it depicts is truly remarkable, and well worth the read. UPDATE: 'To Pause and Protect,' reprinted here.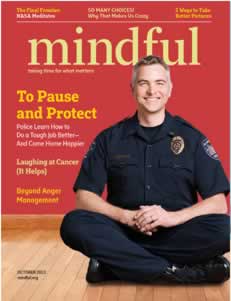 Mindfulness-based Resiliency Training, as described in O'Hagan's article, has potential to produce revolutionary results. Mired in fear, protecting both Training and the delivery of Psychological services from citizen input, Portland City Council is unlikely to even take note of these unorthodox approaches.
Although the sniper's endorsement of 'tactical breathing' (what you and I might call 'meditation') was chilling, awareness and contemplative practices could humanize a culture mired in poor conduct. The article is billed as:
"… a story on a mindfulness program being offered to members of the Hillsboro Police Department in Oregon — the first of its kind.  It's designed to teach mindfulness techniques so that officers not only cope better with the myriad stresses of their jobs, but are better able to serve their communities, with greater awareness and empathy."
To be fair, a Lewis & Clark faculty member warned Roger David Hardesty, prior to the ACLU panel's address of a hypothetical on police accountability, "not to get your hopes up." In a debrief following, with Bobbin Singh, ED of the Oregon Justice Resource Center, the event Co-Chair relayed this convocation was designed to deliver educational credits to lawyers. Civil liberties advocates experienced poorly-facilitated, point-of-view presentations … never intended to engender better outcomes. It's not as if these wealthy men, oft-quoted, with access to power, didn't already have a means of advocating for their constituencies. Absent from discussion were voices of the oppressed, however. We but glimpsed the potentially mortal consequences of failing to successfully negotiate a 'stop 'n frisk.'
It's a pity that ACLU participants did not explore pathways to police accountability. Portland Mayor Hales' office was represented by his Chief of Staff, although not his Police Liaison. A results-oriented approach might have led – if not to a pathway – at least to the stumbling blocks that prevent the broad application of justice, including cultural deficiencies in the Portland Police Bureau which hinder reform. Consult Hardesty concurs with the widening understanding that any sincere desire to reform PPB can only begin with the replacement of Chief Michael Reese. This hierarchical organization must be led though transition by a 'culture change agent' whose pay incentives are tied to performance improvements. Hales has retained the role of Police Commissioner in his portfolio. This audience of learned, fortunate people represented serious political clout, organized and prepared to address the denial of civil liberties. The failure to close the loop, to press the Mayor to abandon his position as PC if he will not dismiss the Chief who ran the bureau during tragic civil rights violations, missed the 'teachable moment.'
But it is important to note that police training, particularly when influenced by enlightened guidance from those who deliver psychological services to the boys in blue, also determines police culture. I urge you to find a copy of the October issue of mindful, and to read the cover story, Pause and Protect.
The imperative behind this post, however, is to get you to spend five minutes in someone else's shoes. This video, takes you outside the law school classroom, far from hors d'œuvre. Without understanding police practices … at a visceral level … the mindful article remains a 'puff piece,' and while do-gooders walk away from cogent lectures with vague feelings that something is wrong, real people, in considerable numbers, experience trauma that privileged folks would never put up with.
Watch at least the first five minutes. Know that Portland Police operate in the same way, far beyond the clean white rooms of genteel, theoretical debate. Visit a world where economic opportunity has been staunchly denied to a minority. The victims are incredibly articulate, given that they likely arose from environments (Camden, NJ) where academic opportunities were dismal. Their conduct, in the face of oppression, is actually noble. Their experience informs our mission.
Our challenge here, as social justice advocates, is to encourage a readership to understand what it is like to be profiled and then rousted. We expect, if you ingest these harms at an emotional level, you will make more of an effort to bring justice.
Our task is to lift you over your complacency, to appreciate that this denial of liberty has gone on for generations. We know there is a broad, sustained, AND UNCHECKED mission by Portland police to act just as Philly cops have in this unedited document. We know that (plot spoiler) even if the filmmaker had been arrested; eloquent, well-dressed DAs will portray bullies as trained observers. We know city administrators and attorneys present police policy and procedures as if they are the guiding principles of what actually transpires in the streets. We know juries will hear of commendations these officers have received … presented by their peers … and that juries will not hear countering, civilian complaints. We know city leaders have not invested in the means to treasure the kind of record-keeping that would end misconduct, that they lack the political will to have allegations investigated by any who are not emotionally invested in leaving cops to police themselves.
What's ironic is that advocating for these victims – now – is actually in the best interest of the dominant culture: as Powers that Be criminalize more and more conduct, law enforcement will gradually come for more and more of 'us,' who today think this is how 'others' should be treated.