UPDATE: Use Roger David Hardesty contact page at hardspace.info, or voice mail to (503) 395-0001. JoAnn is now sole proprietor of Consult Hardesty.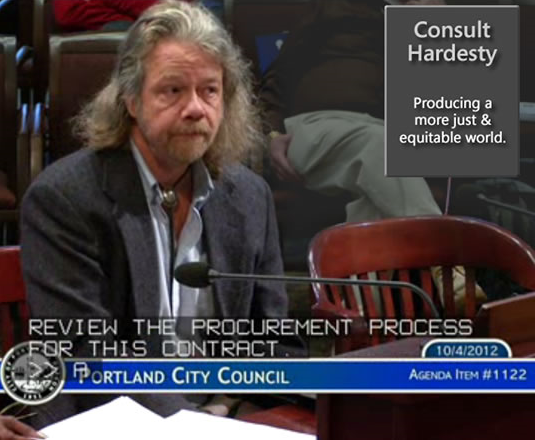 Upon graduation with a BSc in Visual Communications Education from Western Washington, I was asked             — based on my background in typography in Manhattan and Minneapolis, with clients including Rolling Stone – to teach a 16-credit, senior level course there. I subsequently helped former BBC execs launch The Frank Bough Interview, as SKY News first aired from London. Recognized for both editorial skill and technical prowess, I then took Tucson-based Avalon Software across 'bleeding edge' technology; introducing them to digital video and nonlinear training. In Portland, Oregon I emerged as a full-fledged Producer of interactive, web-based training and marketing materials … supervising Art Direction, Sound Design, Training Developers and Programmers for a national client base.
After achieving financial success, I was astounded to discover – following personal inventory – that I longed for especial rewards I'd accrued while, uncompensated, I'd presided over several sustained efforts at restorative justice. It had been soul gratifying to participate as indigenous peoples sought to have land rights recognized. I'd led Minneapolis Chapter efforts in the Big Mountain Support Group for Dineh and Hopi peoples, and been at the core of The Apache Survival Coalition, producing events such as 'Cowboys for Indians' and videography involving Pearl Jam that led to substantial airplay on MTV.
Oregon Action gave me the opportunity to volunteer in pursuit of twin goals … cultivating leadership skills among those on the downside of power, and better understanding organized political campaigns for racial, social and economic justice. It was in that capacity – in pressing Portland City Council to adopt a Plan to Address Racial Profiling, (see 70:10, here*) that I came into relationship with former, thrice elected, State Rep. Jo Ann Bowman. We married in 2011 and divorced in 2016.
I've employed media production skills to support Jo Ann's long-term advocacy for social justice. I developed this site to permit post-conference dialogue following participation in a conference in China: it includes a 'proof of concept' video of Jo Ann's presentation there.
Consult Hardesty offers a unique extension of my project-planning skill sets into Jo Ann's power analysis, community connectivity and campaign leadership. We were intimate in a US Dept. of Justice, Civil Rights investigation into Portland Police: their Findings, of a 'self-defeating accountability system,' led to a proposed Agreement that includes our language … as part of a remedy to illegal use of police force against a protected class. We've proposed legislative changes at local and state level.
We're campaigners. We are prepared to develop community-based organizations, from Board training and strategic planning, to membership development and all areas in between.
I've pursued family history through deep research that has taken me to the National Archives, Library of Congress and the University of Kentucky. Slave roles (both as life-savers and as abject property) entered my construction of a historical record that includes emancipationists and pro-slavery titans. This experience informed Hard Honesty, a blog of reflections on how historic relationships, property, and written records remain in contemporary influence. I entered direct relationship with a descendant of one of my slave-holding ancestors, and became active in Coming to the Table, a community engaged in reconciling others to both historical awareness and current social inequities remaining intact from slavery times. It was for a group of like-minded authors and academics that I helped build the blog 'BitterSweet.'
I am learning what it is to be a White Ally. Taking Dr. Cornel West's admonition to heart (that the civil rights movement kept fascism at bay for a generation or two) and knowing our respect for native treaty rights has sustained Oregon's water quality, I realize social justice advocacy is in the best interest of the dominant culture as well. Biraciality and our arrival from disparate backgrounds means that Consult Hardesty is uniquely poised to address racial disparities. Given our relationships with governmental agencies, academia and other community partners, our presentations can produce emotional impact while remaining fact-based.
UPDATE: Connect with hardspace on facebook or LinkedIn.
Error: Contact form not found.
*UPDATE: Portland City Council has removed public testimony on the Police Plan to Address Racial Profiling.
Coming soon; a bio that depicts Roger David Hardesty as a product of privilege.
See a full-segment FBI interview, for Guy Fawkes Day,
here
.