Consult Hardesty inviteds the public – on 12 December 2013 – to meet Portland Human Rights Commissioners for discussion following a free screening of the locally produced film, 'Safe & Sound?'.
When film producers asked radio and television presenter Jo Ann Hardesty to participate in a documentary to "inspire community members to think critically about the safety of their neighborhoods," and question police roles in maintaining safe communities, we had no idea there would be such a cross-pollination of ideas and deepening relationships among our peers in police accountability.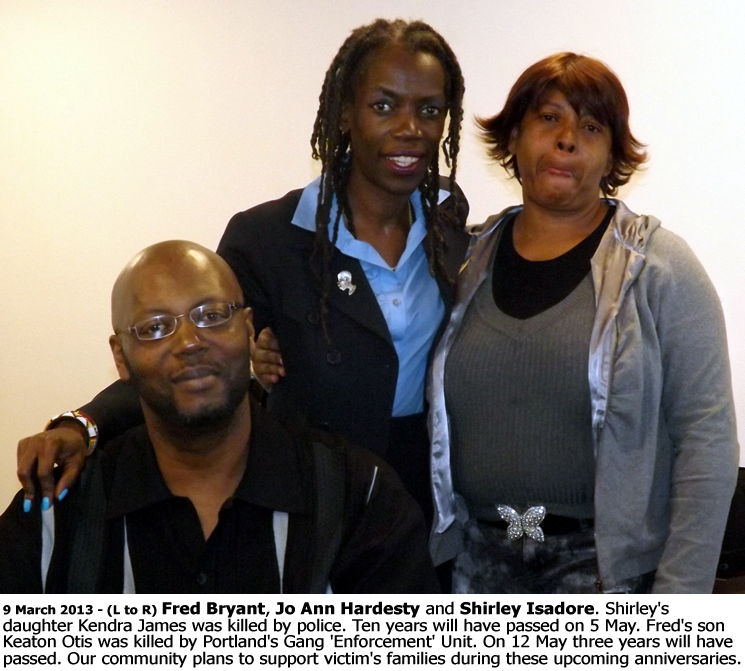 The venture is now billed as "a project by a collective of artists, activists, and community organizers in Portland, Oregon who are concerned about the Portland Police Bureau's routine use of excessive force and other methods of intimidation."
We were privileged to witness our friend Fred Bryant make a meaningful connection with another surviving parent, Shirley Isadore … just as anniversaries to their children's deaths – at the hands of Portland police – approached.
Coming into close contact with family survivors, we recognized the need for a national convening. Isolated and stigmatized, with few who understand the psychic damage of police/city self-exonerations, we suspect such a body could meld individual resiliency strategies … to prepare tools so future victims can find ready and sustaining nurturance. Organized nationally, we might expect those so deeply affected to lead community resolve to hold police accountable for lethal misconduct.
Portland's Human Rights Commission may soon announce a 'Law Enforcement Monitoring and Advocacy' work group. (See pg. 2, in this previous post.) Under advocacy for 'Liberty and Security of Person,' they are expected to address initiatives on civil liberties and police accountability. We're partnering with the HRC in the hope of further cross-pollination: following the screening of Safe & Sound?, we hope the community will begin to tackle the cultural changes required … if we The People are to protect our civil rights from further abusive practices.
Organizing itself as a 'community connector,' Consult Hardesty leveraged city resources, by calling Portland's Human Rights Commission into partnership. We'll collaborate with local neighborhood assets, resident in a storefront skills development/recreational center. Our outreach plan targets a specific, at-risk neighborhood; we'll foster community engagement between city leaders and those on the downside of power.
Relying on Jo Ann's facilitation skills, our goal will be realized when community members find cohesion around shared values. We'll be prepared when, motivated by their participation, attendees seek to advocate for their own interests. We'll plug them into existing opportunities … or help them initiate their own advocacy group.
NOTE: Safe & Sound? producers will make their work product available to you at no cost. One of the most haunting collaborations is reflected in fatal geographies, by photographer Ian Wallace.